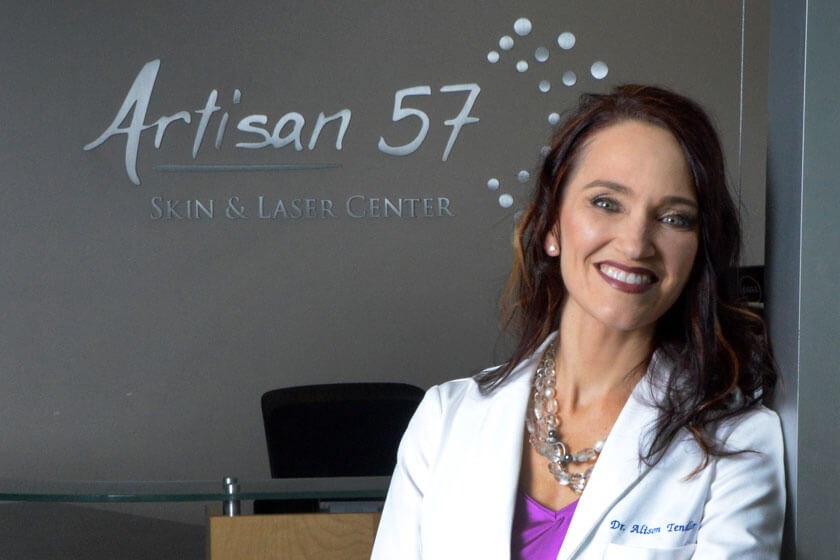 Meet Dr. Alison R Tendler
Dr. Alison R Tendler, a board-certified ophthalmologist surgeon, specializes in oculoplastic treatments at ARTisan Skin and Laser Center in Sioux Falls, SD. As a skilled eye surgeon, Dr. Tendler also treats nearsightedness, farsightedness, and astigmatism with cataract, lens implant, and refractive surgery. Certified by the American Board of Ophthalmology, Dr. Tendler is devoted to helping her patients see with clarity while feeling confident about their image. By employing the use of laser skin care, cosmetic injectables, and facial rejuvenation techniques, Dr. Tendler also helps patients to meet their aesthetic goals and desires.
Dr. Tendler is devoted to helping patients look and feel their best at Artisan 57. She believes that beauty is a form of art. Like a masterpiece, your beauty needs to be created, cultivated, preserved, and repaired at times to a more youthful state.
Dr. Alison R. Tendler and her team look forward to assessing your skin, creating a personalized treatment plan, and helping you implement a skin care program that gets results. With the latest aesthetic technologies and medical-grade formulations, our laser, skin care, injectable, and noninvasive treatments can reveal stunning outcomes in your skin.
A South Dakota native, Dr. Tendler decided to attend medical school at the University of South Dakota, where she graduated with honors with a Doctorate in Medical Physiology. Dr. Tendler then furthered her knowledge with a three-year ophthalmology residency at the University of Minnesota. Upon the finality of her residency, Dr. Tendler completed a rigorous corneal and anterior fellowship with Dr. Michael Belin of the Cornea Consultants of Albany at Albany Medical College in New York, NY. Dr. Belin was instrumental in the development of laser vision correction and served as a core investigator for the VISX laser. The instruction given to Dr. Tendler during her residency with Dr. Belin furthered her education extensively.
Hobbies & Personal Interests
In her spare time, Dr. Tendler loves to travel to nontraditional vacation destinations with her husband Paul. She likes to say that while she does not have a favorite destination, she cannot help but to compare each spot to Fiji, which she describes to be one of the most beautiful places she has ever experienced. In addition to traveling, Dr. Tendler and Paul enjoy including Molly, their black lab, in many outdoor activities including long walks and workouts.